Why kerala is a famous Tourist destination in India attracting tourists from all over the world ?
Kerala's culture and traditions, coupled with its varied demographics, have made the state one of the most popular tourist destinations in India. In 2012, National Geographic's Traveller magazine named Kerala as one of the "ten paradises of the world" and "50 must see destinations of a lifetime". Travel and Leisure also described Kerala as "One of the 100 great trips for the 21st century".[ In 2012, it overtook the Taj Mahal to be the number one travel destination in Google's search trends for India.] CNN Travel listed Kerala amongst its '19 best places to visit in 2019'.
Kerala's beaches, backwaters, lakes, mountain ranges, waterfalls, ancient ports, palaces, religious institutions and wildlife sanctuaries are major attractions for both domestic and international tourists. The city of Kochi ranks first in the total number of international and domestic tourists in Kerala.] Until the early 1980s, Kerala was a relatively unknown destination compared to other states in the country ]Many advertisements branded Kerala with the tagline Kerala, God's Own Country.] Kerala tourism is a global brand and regarded as one of the destinations with highest recall In 2006, Kerala attracted 8.5 million tourists, an increase of 23.68% over the previous year, making the state one of the fastest-growing popular destinations in the world In 2011, tourist inflow to Kerala crossed the 10-million mark.
A panoramic view of Varkala Beach Cliff
Ayurvedic tourism has become very popular since the 1990s, and private agencies have played a notable role in tandem with the initiatives of the Tourism Department. Kerala is known for its ecotourism initiatives which include mountaineering, trekking and bird-watching programmes in the Western Ghats as the major activities. The state's tourism industry is a major contributor to the state's economy, growing at the rate of 13.31% The revenue from tourism increased five-fold between 2001 and 2011 and crossed the ₹ 190 billion mark in 2011. According to the Economic Times.Kerala netted a record revenue of INR 36,528.01 crore from the tourism sector in 2018, clocking an increase of Rs 2,874.33 crore from the previous year. Over 16.7 million tourists visited Kerala in 2018 as against 15.76 million the previous year, recording an increase of 5.93 per cent. The industry provides employment to approximately 1.2 million people.
The state's only drive-in beach, Muzhappilangad in Kannur, which stretches across five kilometres of sand, was chosen by the BBC as one of the top six drive-in beaches in the world in 2016. Idukki Dam, the world's second arch dam, and Asia's first is at Idukki. The major beaches are at Kovalam, Varkala, Kozhikode, Fort Kochi, Cherai, Alappuzha, Payyambalam, Kappad, Muzhappilangad and Bekal. Popular hill stations are at Ponmudi, Wayanad, Wagamon, Munnar, Peermade, Ramakkalmedu, Paithalmala of Kannur district, Kodikuthimala, and Nelliampathi.Munnar is 4,500 feet above sea level and is known for tea plantations, and a variety of flora and faun] Kerala's ecotourism destinations include 12 wildlife sanctuaries and two national parks: Periyar Tiger Reserve, Parambikulam Wildlife Sanctuary, Chinnar Wildlife Sanctuary, Thattekad Bird Sanctuary, Wayanad Wildlife Sanctuary, Muthanga Wildlife Sanctuary, Aralam Wildlife Sanctuary, Eravikulam National Park, and Silent Valley National Park are the most popular among them The Kerala backwaters are an extensive network of interlocking rivers (41 west-flowing rivers), lakes, and canals that centre around Alleppey, Kumarakom and Punnamada (where the annual Nehru Trophy Boat Race is held in August), Pathiramanal a small island in Muhamma . Padmanabhapuram Palace and the Mattancherry Palace are two nearby heritage sites, Padmanabhaswamy Temple in the state capital of Thiruvananthapuram holds the record as the wealthiest place of worship in the world, with assets of at least ₹1.2 trillion (equivalent to ₹2.0 trillion or US$28 billion in 2019).
Places to explore in kerala
1 Alleppey (Alappuzha):
There is the whole of Kerala in one side, and then there is this heavenly tourist destination called Alappuzha or Alleppey! Esteemed as the 'Backwater Capital of India' or the 'Venice of the East', Alleppey is known for its silent backwaters and bountiful beauty!
Seated on the banks of the azure Vembanad Lake, it is in fact one of the most populat tourist destination in kerala and one of the highest sought-aftertourist places in Kerala. Visit this paradise; enjoy houseboat cruise and stay, village walks, Ayurvedic therapies and lot more!
Best Time to Visit: Year-round destination
Tourist Attractions: Vembenad Lake Alleppey Beach, Marari Beach, Krishnapuram Palace, Pathiramanal, Kuttanad Backwaters, Arthunkal Church,Ambalapuzha Temple, Mannarshala Temple, Karumadikuttan Statue, St. Mary Rorane Church
Nearest Railway Station: Alleppey Railway Station
Weather: Summer (April – June), Winter (October – Mid March), Monsoon (July – September)
2. Wayanad: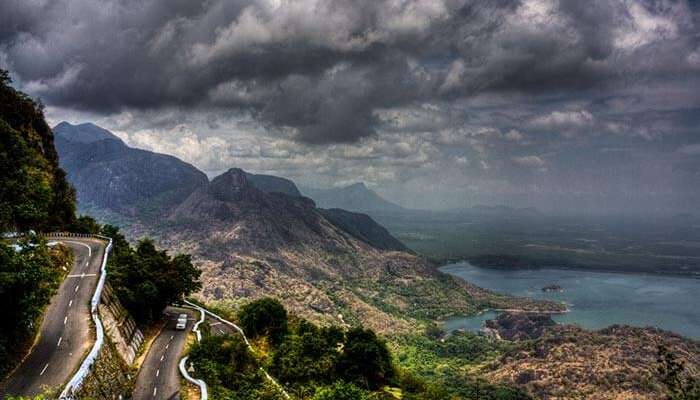 Cradled in the lap of the Western Ghats, Wayanad truly deserves a top rank in the list of places to visit in Kerala. Situated at an astounding height of 700-2,100m, this stunning hill station is all about fantasy, untouched nature, unforgettable moments, and merriment!
Adding more to Wayanad's enchanting beauty, visitors can also revisit and unfold history while visiting this hilly retreat. Yes, the lush and pristine forests in Wayanad are said to be inhabited more than 3,000 years ago.
Best Time to Visit: Year-round Destination
Tourist Attractions: Wayanad wildlife sanctuary, Banasura Sagar Dam, Chembra Peak, Soochipara Falls, Sentinel Rock Falls, Kanthanpara Waterfalls, Kuruva Island, Pookode Lake, Lakkidi, Muthanga Wildlife Sanctuary, Pakshipathalam, Edakkal Caves, SulthanBthery, Chain Tree
Nearest Airport : Calicut International Airport (98km)
Nearest Railway Station: Nilambur Railway Station (92km / 3 Hours)
Weather: Summer (March - May), Winter (December - February), Monsoon (June - September)
3. Cochin: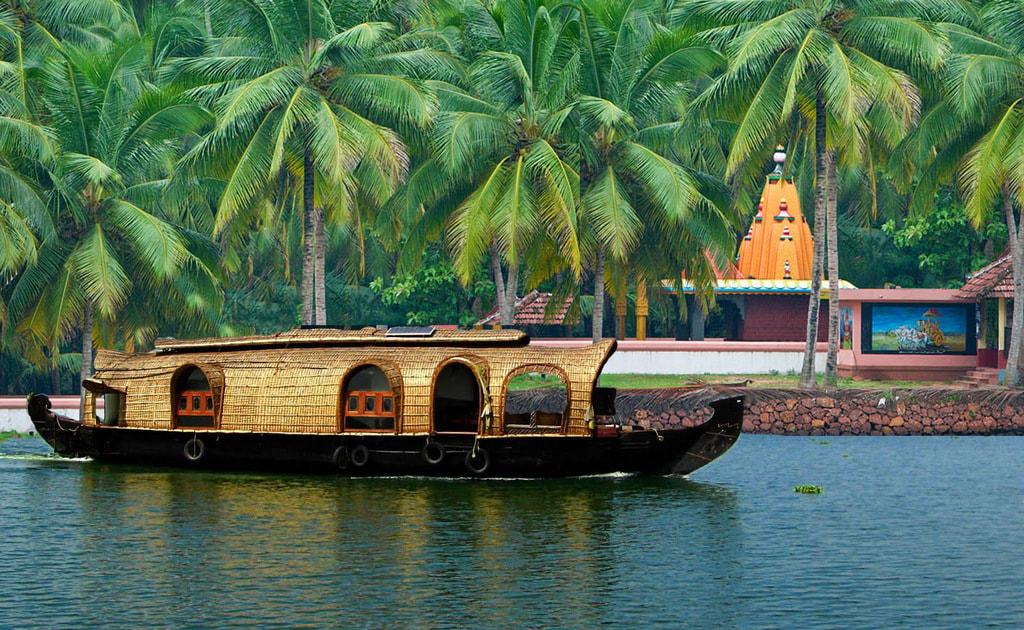 Kochi or Cochin is a unique placeinG that is perfectly blended with cultural values and modern ideas! Fondly called the 'Queen of the Arabian Sea', this imposing port-city has always been an attraction point since the beginning of history.
A melting point of numerous culture and traditions, Cochin has embraced all the modern outlook to become one of the most developed metropolis in India. Be it the essence of the Dutch establishments, British history, Chinese nets, or the traditional spice markets, Cochin will surely make you fall in love once again!
July (Beginning of Monsoon) to April (Early Summer)
Tourist Attractions: Fort Kochi, Vypeen Island, Vypeen Beach, Cherai Beach, Andhakaranzhi Beach, Marine Drive, Bolghatty Island, Guruvayoor, Chinese Fishing Nets, St. FrnacisChirch, Basilica of Santa Cruz, Thrikkara Temple, Kanjiramattam Masjid, Shri Guru Singh Sabha Gurudwara, Jewish Synagogue, Cochin Cultural Centre, Malayattoor, Mattancherry, Lulu Mall (Largest Mall in India), Kodannad Elephant Training Centre, Hill Palace Museum, Edappally Museum, Princess Street, Kerala Kathakali Centre, Vasco Da Gama Square
Nearest Airport: Kochi International Airport
Nearest Railway Station: Kochi Railway Junction
Weather:Summer (March - June), Winter (July - September), Monsoon (October - February)
4 . Munnar: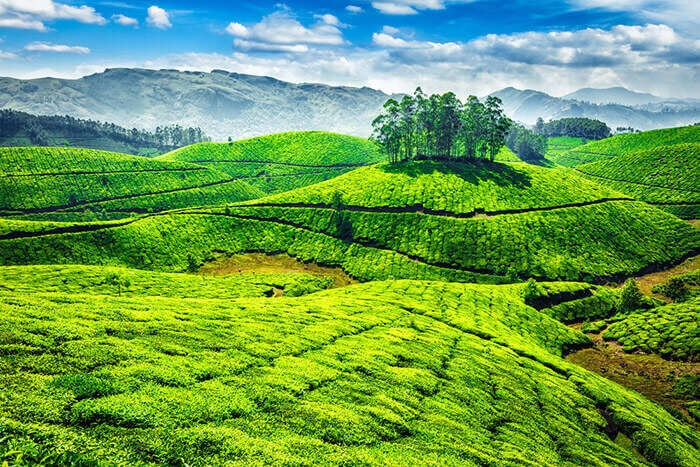 Yet another gorgeous hill station in the lap of the fascinating Western Ghats, Munnar needs no introduction. Rising 1,600m above the sea level, a vacation in the beguiling locales of this hilly retreat is all about the lofty clouds, picturesque mountains, rolling hills, and a soothing ambience.
Best Time to Visit: Year-round Destination
Tourist Attractions:
Eravikulam National Park, Mattupetty Dam, Pothamedu View Point, Anamudi, Blossom Park, Devikulam, Pallivasal, TATA Tea Museum, Vattavada, Attukal Waterfalls, Cheeyapara Waterfalls, Kundala Lake, Nyayamakad, Meesapulimala, Kolukkumalai, Lock-Hart Gap, Chithirapuram, Rajamala, Top Station, Marayoor Dolmens, Indo Swiss Diary Farm, Lite of Pi Church,
Nearest Airport: Cochin International Airport (125km)
Nearest Railway Station: Ernakulam Junction (128km / 4 Hours)
Weather: Summer (March - May), Winter (December - February), Monsoon (June - September)
Canopied mostly by never-ending tea plantations and lush forests, you simply cannot miss out Munnar while searching for the best Tourist destination in kerala. Be it during the summer or the winter, monsoon or the spring, Munnar will always make you crave for more!
5. Kumarakom: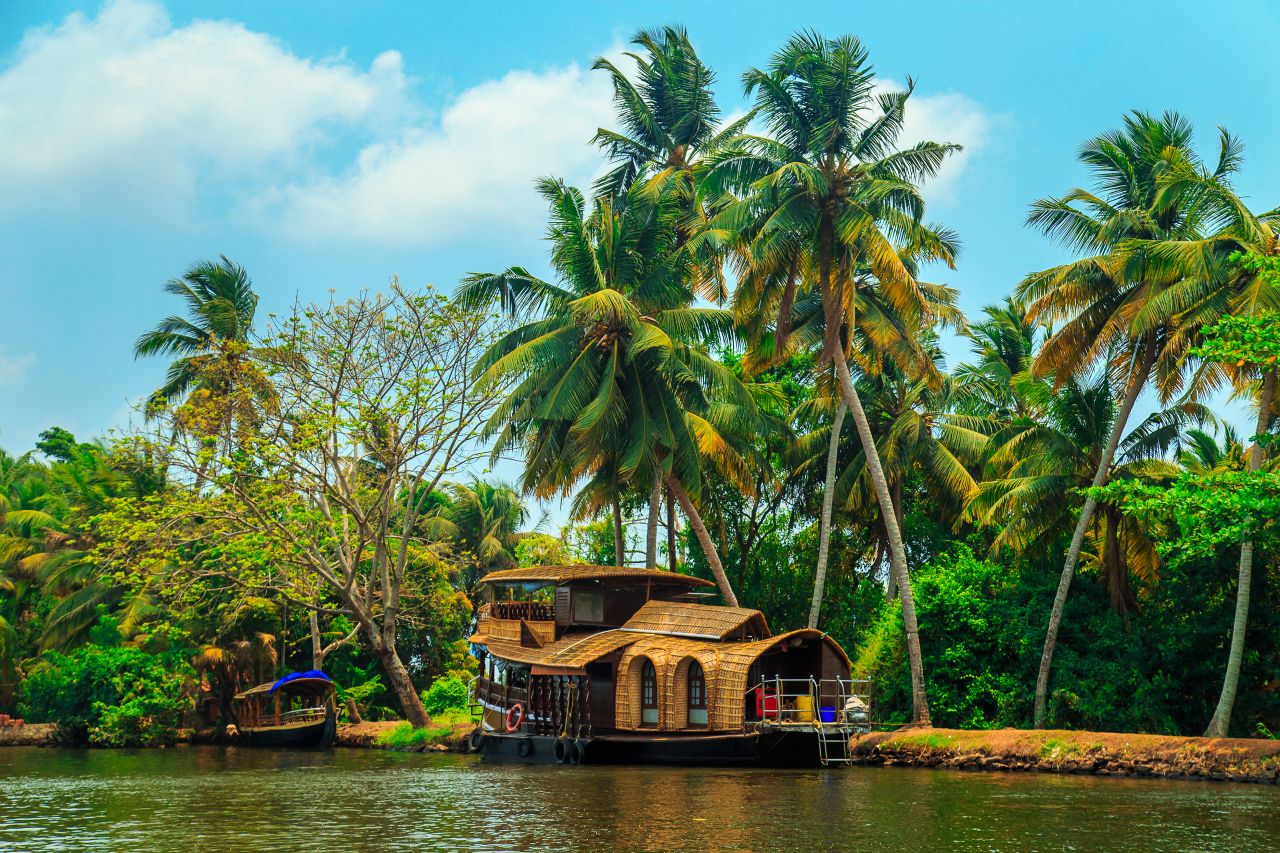 Adorned by the magical charm of the Vembanad Lake, Kumarakom is another beguiling backwater destination in God's Own Country. Located within the proximity to Kottayam city, this is the place where even being lazy is also one of the best things you can do during your Kerala holidays.
Adorned by the charm of the emerald Vembanad Lake, the evergreen coconut grooves, breezy rice fields, and lot more, Kumarakom is popular among all the types of visitors. However, backwater cruise and houseboat stays are the most popular thing to do in this beautiful tourist destination.
Best Time to Visit: September (Monsoon End) to March (Winter End)
Tourist Attractions:
Eravikulam National Park, Mattupetty Dam, Pothamedu View Point, Anamudi, Blossom Park, Devikulam, Pallivasal, TATA Tea Museum, Vattavada, Attukal Waterfalls, Cheeyapara Waterfalls, Kundala Lake, Nyayamakad, Meesapulimala, Kolukkumalai, Lock-Hart Gap, Chithirapuram, Rajamala, Top Station, Marayoor Dolmens, Indo Swiss Diary Farm, Lite of Pi Church,
Nearest Airport: Cochin International Airport (125km)
Nearest Railway Station: Ernakulam Junction (128km / 4 Hours)
Weather: Summer (March - May), Winter (December - February), Monsoon (June - September)