When is the best time to visit Jaipur ?
What is Jaipur famous for ?
If you are having these questions ,than you are at a right place :)
We are going to take you to rajasthan and introduce with each and major thing you need to know before visiting Rajasthan
The best time to visit Rajasthan is anytime between July and February. Summers are harsh and it is best to avoid going between March and June. There are rains during monsoon between July to September. Destinations in Rajasthan like Jaipur, Pushkar, and Udaipur look refreshing when it rains as the lakes beside the palaces fill up adding an extra touch of beauty.
Winter between October to February is the perfect time to explore all the destinations in Rajasthan as the daytime temperatures are pleasant. The nights are very cold as the temperatures drop, so carry warm clothing.
The land of Maharajas, lakes, grace, emotions, adventure, and vibrancy, Rajasthan with its royal essence welcomes you with all its heart. "Khamma Ghani", it says, and has the beauty that never betrays. Rajasthan is a magical land full of cheerfulness and quintessential charm. In the era where development has taken over, the state remains truthful to its roots and customs. In every street you will find a new ritual, in every face, you'll see an acquaintance. It is a land that showers you with love and a melting pot of multiple religions that is meant to be visited once a lifetime.
Realizing its heritage richness and eyeful aura, more and more people are booking their tours to this heavenly destination leading to an increase in Rajasthan Tourism. Be an influential part of this rise, Book your tours now!
"Padharo Mahrey Des," Welcome to Our Land; it invites you to unravel its opulence and unbeatable grandeur.
Places To Visit in Rajasthan— Uncover the Land of the Kings
JAIPUR— THE PINK CITY OF INDIA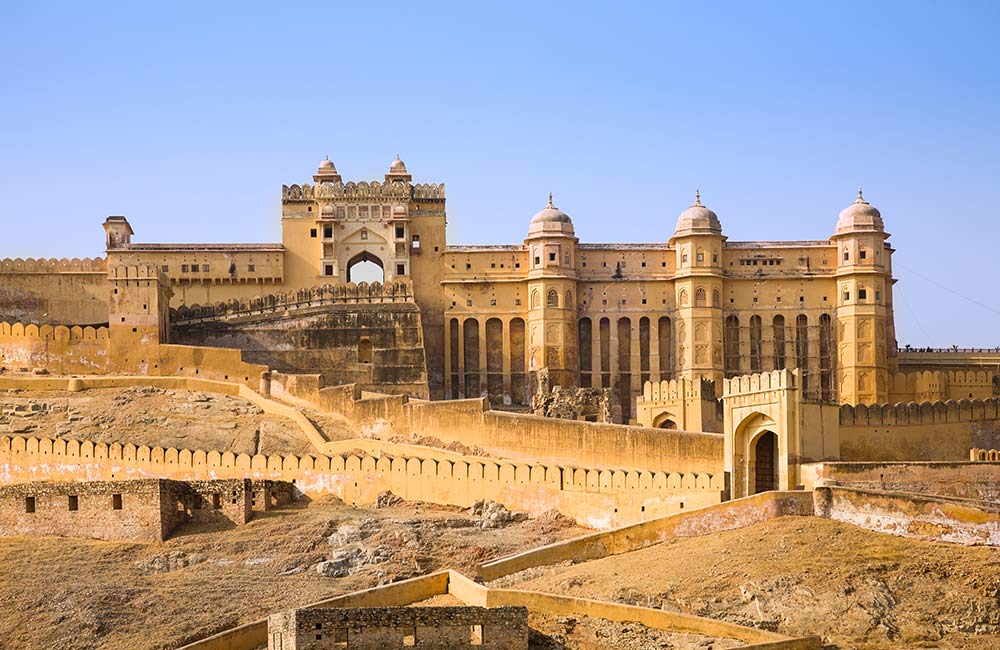 The Pink City, situated on one end of the Thar Desert, encompassed by the Aravalli Hills, is the crowning jewel of Rajasthan. Whether you're travelling solo or with your loved ones, Jaipur
The Pink City, situated on one end of the Thar Desert, encompassed by the Aravalli Hills, is the crowning jewel of Rajasthan. Whether you're travelling solo or with your loved ones, Jaipur will mesmerise you with its palaces, beautiful historic forts, bazaars and cuisine. The city's pink colour scheme is a joy to behold, and you'll need more than a few days to get your fill of Jaipur and its many attractions.
Whether you're exploring the royal observatory, or dodging foot traffic as you haggle in a multi-coloured bazaar, Jaipur will ensure you have the time of a lifetime. It comes as no surprise that Jaipur is part of India 'golden triangle' travel circuit, that includes Agra and Delhi.
A mixture of rich culture, heritage and flavors – is something that aptly describes Jaipur. Pink City Jaipur is verbatim, a true identity to the varied diversity in India. Jaipur harbors copious amount of tourist attractions from all over the world in every season of the year. Being the largest city in Rajasthan, it evokes the princely reign of royal families that existed long ago
Amidst its stately street grid, stands the opulent complex of City Place. It was ranked the 7th best place in Asia by Travelers Readers Choice Survey conducted in 2018 and bagged the 'best city to visit in India' tag. Mazel Tow to Jaipur Tourism!
Magnificent forts , fairy festivals and tainted temples credit to the cause. It is also well – known for its grandeur in subjects of food. Rajasthani Thali is a must-try. The eclectic morsels served along with aesthetic condiments and taste make it an unforgettable memoir to take back with you.
Located in the semi-arid deserted land, approximately 400 meters above the sea level, it has a tropical and hot climate. There are only three distinct seasons in Rajasthan. One starts with scorching heat, and balmy hot spring-summer, followed by a brief but intense monsoon followed by dry yet warm winter.
The best time to visit Jaipur is winter during the months of November to January. However, it is highly recommended to pre-plan your tour beforehand. Here is a detailed version of Jaipur season-wise that will help you rule out the best time to book your tickets or more importantly when not to! Let's get started!
Summers in Jaipur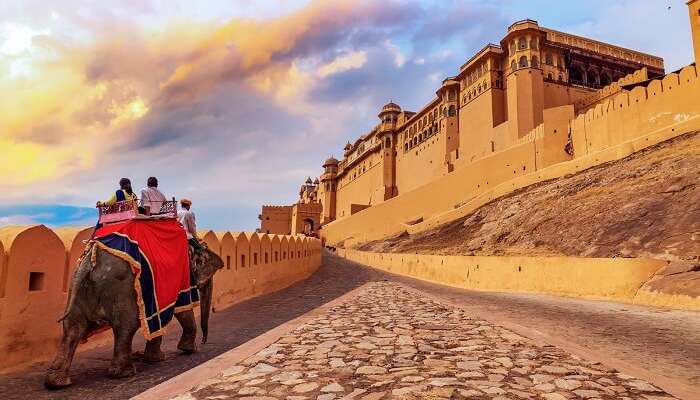 Summers in jaipur is dreadful and sweltering. It starts from March and lasts till May. The average temperature hovers around 38 to 44 degree Celsius. It is that time of the year which makes sightseeing little challenging and can turn tourists into a grey mood. Hot air blows for almost the entire day making the vicinity humid and sweaty.
It is highly essential that you carry adequate blocks of sunscreens, shades and water bottles wherever you go. Do not forget to book air-conditioned hotels. Also, carry your umbrella and stoles as often as you can. Avoid visiting those places wherein you can get tanned and bruised. Also, keep yourself hydrated by drinking lots of coconut water and fruit juices. On the contrary, these are a few places you can swing by with the aforementioned precautions.
Amid the rocky hills of Aravalli lies a piece of amazement. Beguiling beauty of immaculate white marbles and red sandstone is an exquisite combination seen in this palace. Never miss out the 'Sheesh Mahal' or the 'Palace of Mirrors' that caters an interesting collection of mirror tiles. Of the many such fascinating facets, the top-notch one would be the presence of precious gem stones in the wall arts. They are a sheer art of beauty to gaze at.
Hawa Mahal or the 'Palace of winds or breeze' is yet again one of the trademark places in Jaipur tourism. No matter whichever season it is in the clock, Hawa Mahal always has cool breezes in its ambience. That is why it has been one of the most visited tourist destinations during the summer holidays of the then Rajput families and now for many travelers. It is therefore mostly toured in the summer months due to its earthly and cool winds.
Typical festivals round this season is the Elephant Festival. In here, elephants are decked up flawlessly in colorful mirror works and paints. Then they are paraded through the melas, which also includes events like Elephant dancing and Elephant Polo. It is a single day affair prior to Holi every year in March.
Monsoons in Jaipur
Monsoons (The Indian Rainy season) starts from June to mid-September. Jaipur doesn't get teeming rainfall, or you can say it gets scanty rainfall much lower than average rainfall in a year. The temperature hovers around 25 to 32 degree Celsius. It is way calmer and cooler than summer and would not hinder your sightseeing process. After slight showers the city looks much vibrant, greener and cleaner.
Each of the forts and palaces in the Pink city has a little story in its backdrop. But Jaigarh Fort has its own milestone of significance and stature. It is located on the promontory of the Hill of Eagles- The Aravalli Hills. The magnificence of this fort stands out from other forts, distinctively. It also houses Jaivana, renowned for world's largest cannon on wheels.
Your sightseeing will stay incomplete if this is not ticked on your list. It is situated roughly 7 kilometres afar from the city. It has myriad waterfalls, fountains and rustic pavilions. The name collects itself from the Queen Sisodia of the late 15th century.
It has an excellent blend of Mughal architecture with a culmination of Indian style of art. The walls depict the charming love story of Lord Krishna and Radha. There are many temples inside the garden to drop by. You can see a splendid collection of rare flowers and verdant greenery around.
Around the corner, you will find plenty of local shops and bazaars in every lane of the streets. These lanes have engraved in them. You will be enticed by the sheen and flamboyance in these shops. From footwear to handbags to home décor stuff, you will get anything and everything in here.
Of them, Bapu Bazaar and Lohri Bazaar are the most visited ones. Ladies, it is your call. You get to see timeless jewelry, adorable accessories, sarees, Morjis, totes etc in real nominal prices. It is actually difficult to return empty-handed after visiting thesemarkets. You will surely love the products found here.
Jaipur is known for its incredible festive celebrations. With a splash of color, dollop of vivacity and slice of love Chokhi Dhani is described. It is a replica of old-style Rajasthani village and supposedly the only five-star rated village in the state. Tap your feet to the ethnic dance groves and traditional folk music that happens every evening. Dhani's door of entertainment has been opened to welcome ethnicity and revelry with great pomp and show.
Winters in Jaipur
Winters are cold, calmer and convenient. It is likely the best season to visit Jaipur. Nevertheless, it is also the time when the resorts charge maximum prices and sometimes it is even hard to get a vacant room due to pre-bookings. In evening hours, the temperature might drop down to 3-4 degree Celsius at times. So do carry your winter garments along with you.
It starts from October and ends in February. The average temperature nestles in the range as low as 7 to as high as 31 degree Celsius in the daytime. It is when the heat in the city decreases paving way for pleasant and delightful weather to tour. Hence it is advised to availsightseeing in these months, exclusively.
Jantar Mantar Observatory
In the mid-16th century, the ruler of Jaipur invented an instrument that could study space. The largest of these instruments is located in Jantar Mantar. It is approved by UNESCO as a World Heritage site. Planned city Jaipur, hosts many such scientific gizmos and architectural epitomes.
It entails several instruments that can calibrate accurate time, measure the distance of Sun from Earth, track the cycles of the eclipses etc. One such instrument called the Samrat Yantra is said to forecast time and arrivals of monsoons. It is the largest sundial in the world. If you have the hots for astronomy, well then you need fret no more. This is your go-to for all your astronomy needs.
In Hindi, it translates to a city of brightness. The remnants and ruins of the city are extant and is visited by the tourists with sheer felicity. This step well was constructed during the reign of Chauhan Dynasty. It was constructed as a homage to Goddess Hashat Mata, goddess of joy and happiness.
The old step well constitutes of almost 3000 steps across 13 stories. It goes down to about 35 meters into the ground making it the deepest step well in the country.
It was constructed by the kings in that era with a notion to preserve water and sever the issue of water scarcity. This step well could store large quantities of water which was clean and cool. The temperature of water at the end of the well was quite cooler than the surface of brim.
It is an outstanding attraction in the city rendering a luxurious class accommodation. Its architecture has a perfect blend of artistic values inspired from the Mughal era. It first took birth as a garden house then got converted to a royal hunting lodge to a royal suite encompassing glam and glitz.
The tourists say that this luxury takes them back to the times of the reigning kings and their aristocratic style of lifestyle. You can book your rooms online if you wish to avail some discount.
This time of the year also invites many festivals and celebrations. Of them, Jaipur Literature Festival is widely acclaimed. Bibliophiles around the corners of the nation flock around in this festival. 'Teej' is also a local festival that is celebrated in the city during this time of the season.
On accounts of Makar Sankranti, Jaipur hosts 'Kite festival'. It is a unique festival celebration where hundreds of kites are flown onto the sky. With shards of mirror bits on string lines, kites fight off their battle for dominance. It is one such festival which amasses colossal audience and wreathes the city together.
Although winter is claimed to be the best season to tour around the city, Jaipur will always host you with open arms throughout the year. Over and above, to the aforementioned places, you can also stop by Jal Mahal, City Palace, Birla Mandir, Galtaji, Govind Dev Ji Temple, Garh Ganesh Temple, Moti Dungri Ganesh Temple, and the Jaipur Zoo.